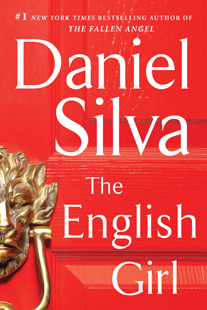 MY HEROES
I generally gravitate to series when I'm looking for fiction. If I fall in love with a character, I want to read more about them. Here are some of my heroes. These are the books I pre-order instantly, hardly able to wait until they arrive from Amazon. These are the men to whom I've given my heart, in no particular order, because I can't choose between them.
- Gabriel Allon, the complex Israeli art-restorer/assassin, brain child of Daniel Silva. Gabriel is the epitome of cool intelligence, devising a complicated plan for his team to catch a spy or save a victim and carrying it out with calm daring.
- "That fuckin' Virgil Flowers" - John Sandford's off-shoot of his Prey series (incidentally, I'm a great fan of Lucas Davenport too). Virgil is a down-home cop in jeans and cowboy boots, who'd rather be out on his bass boat than catching murderers. He's seemingly easy-going and has an eye for the ladies which generally steers him wrong but he gets the job done with insouciance and wit though he often gives his superiors heartburn with his methods.
- Burke - If I absolutely had to pick a favorite of all time, it would be Burke. Unfortunately, Andrew Vachss ended the series at 16. These are some of the few books I'll read the second or even the third time. The Burke novels may not be for everyone. Burke and his "adopted" family live in an alternate world from most of us - the gritty New York City of cops and ex-cons and pimps and hookers and child molesters (Burke's particular nemesis). Their morality is off-the-beaten track; their ethics are twisted by their experiences. They remain off the grid and take vengeance on their enemies in the most clever and creative ways.
- Jack Reacher. Of course. Who doesn't love Jack? (And oh, God, no, he is nothing like Tom Cruise!) Ex-Army, he cruises the country staying under the radar of the authorities until some wrong piques his interest and he's forced to get involved. He takes on powerful entities, like corporations and the military, and out-wits them. When he's accomplished his mission, he takes the next bus out of town with only the clothes on his back to disappear into nowhere.
- Micah Dalton - David Stone's Micah is a fixer for the CIA, coming in to clean up after the mistakes of others. He is self-sufficient and relentless, having no conscience about killing those he believes need to be eliminated. He thinks quickly and acts decisively, navigating the dangers of the spying life with sardonic humor.
- Jamie Fraser and Lord John. Diana Gabaldon offers a double treat the Outlander series for I adore both Jamie Fraser and Lord John/ Jamie, the red-headed Scot, is the ideal elemental male - courageous, protective, decisive, bold - sometimes pig-headed but capable of romantic moments as well. Lord John, on the other hand, is handsome, suave and sophisticated....and gay. The two men have a relationship that is complex and conflicted although they have enormous respect for one another as well. I'm only writing about heroes in this piece but if I were including heroines, Claire Fraser, Jamie's wife, would be at the top of the list. They are one of the great fictional love affairs of all time.
- Charlie Parker, Louis and Angel by John Connolly. Charlie Parker is an ex-cop, private investigator with a talent for tapping into the supernatural. His wife and child were brutally murdered and still appear to him to urge him on in fighting evil. His best friends are Louis and Angel, gay partners and assassins. Louis is black and dashing and fearless. Angel is an ex-con, small and sloppy and passionate. The dry humor among the three of them alleviates some of the brutality in the books.
- Sean Dillon...you always have a special spot in your heart for your first love and Sean Dillon is that for me. The ex-IRA enforcer, blackmailed into becoming a British spy, was for me the consummate courageous, creative, daring adventurer. To some degree, all the spy heroes who've come after were modeled on Sean. These days, both author Jack Higgins and Sean himself, have aged and slowed but I'll continue to read every book about him until there are no more.
- All the men in Tim Hallinan's series including Poke Rafferty, Simeon Grist and Junior Bender. They are all characterized by being unwilling heroes. The humor is snappy and clever and funny.
Also Much Loved

Sonchai Jitpleecheep - John Burdett
Myron Bolitar and his lethal friend, Win - Harlan Coben
The Gray Man series - Mark Greaney
John Rain by Barry Eisler
Ed Loy by Declan Hughes

Virgil Cole and Everett Hitch - Robert B. Parker's western series
Joe Pitt (vampire) and Hank Thompson - Charlie Huston

Elvis Cole and Joe Pike - Robert Crais

And, of course, let us not forget Christian Gray who broke new ground in hot romantic fiction. A very unique hero but definitely intriguing.

I'm sure there are more. I might have to make another list for now these are some of my favorites. I would recommend any of them.