It used to be that if we wanted to express our opinion, we had to spend a little time and effort and thought writing a Letter to the Editor. That was too much work for most of us.
Those days are long gone. Now we are all writers because we have Twitter and Facebook and Google+ and the comments sections of websites. We use these sources indiscriminately. We toss out our posts with relish, often without knowing what the hell we are talking about. We know what we think because it is the accepted attitude of our particular political group. If Rush Limbaugh says it, that's good enough for me!
And we are mean, vicious even. Most of us probably wouldn't have gone so far in a Letter to the Editor because we wouldn't want to sound so narrow-minded and hateful to our neighbors. But heck, at Facebook, while its not anonymous, most of our "friends" were probably chosen because they are like-minded so whatever our views, we can find plenty of supporters (and we de-friend dissenters). Same with Twitter. We're most likely singing to our own choir and get back a chorus of "Amens" whenever we speak out. The blizzard of Amens appear to be the loudest when we are at our most strident. "Obummer is a piece of shit!" AMEN! "ODumbo is a Muslim constitution-destroyer!" AMEN!
And we turn on a dime. What we believe today isn't necessarily what we believed yesterday. I have never seen a clearer example of that than the Bowe Bergdahl case. Evidently, conservatives see no conflict in thinking "Obama hates our soldiers and won't lift a finger to bring Bowe home, that bastard!" on Monday, then on Tuesday doing a 180 to "he should be impeached for saving that traitor!" (AMEN!) Conservatives literally changed their minds practically overnight. For examples, see below.
None of that is what bothers me the most though. It is the mob mentality that overtakes us when we gang up on the social media sites. Bowe Bergdahl is no longer a human being, a young soldier sent to a war zone, who may very well have suffered a mental breakdown. Perhaps, he was a deserter. Perhaps, in the end, he will be court-martialed and put in prison but shouldn't this be
after
he is given a trial and the opportunity to be charged, face his accusers, tell his story and mount a defense....things that are guaranteed to every American by our constitution. You know, that constitution the conservatives obsess so much about.
Can't we take that much time to let the process work before we make a judgement? Can't we have that much patience before we swift-boat a young soldier? The Obama/Bergdahl haters remind me of a lynch mob who want to break a prisoner out of jail and string him up before a trial because they
know
he deserves it.
They've already caused the hometown in Idaho that wanted to joyously welcome Bowe home to cancel their celebration. Too dangerous, I guess, what with all these gun people walking around with their AKs. One of them might decide to take matters into their own hands.
I find it inordinately sad that they are not allowed to express their gratitude and relief because some would try to ruin it.
We seem to be turning into a nation of haters. Maybe we always were but we didn't have such easy ways to express it. Now we're all writers. Too bad so much of what we write is so ugly.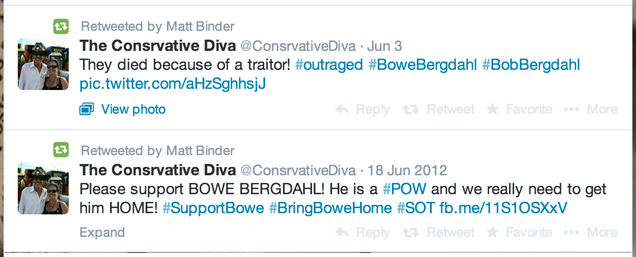 S
EXPAND
Conservatives want you to know they're simply telling an inconvenient truth about the bad behavior of U.S. soldier Bowe Bergdahl and the Obama administration's effort to get him back from Taliban captivity. It's also a truth that's 180 degrees from the truth they tweeted lo, these many years ago!
As we've written before
, the circumstances surrounding Bergdahl's disappearance, and the sacrifices of the soldiers tasked with finding him, raise many fair questions about his moral and legal responsibilities and whether he shirked them.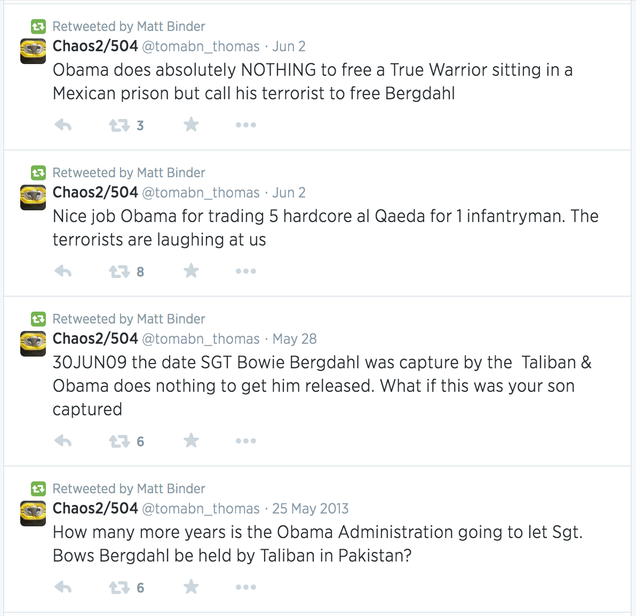 1
S
EXPAND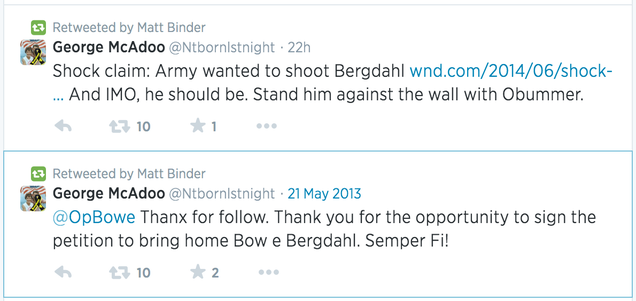 S
EXPAND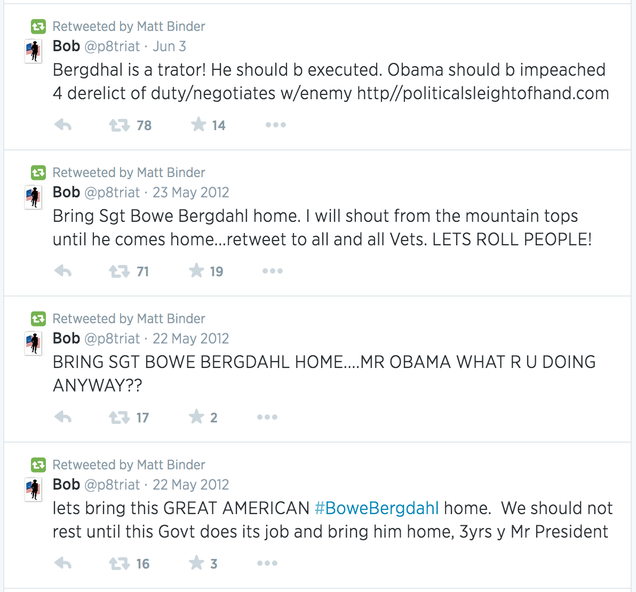 S
EXPAND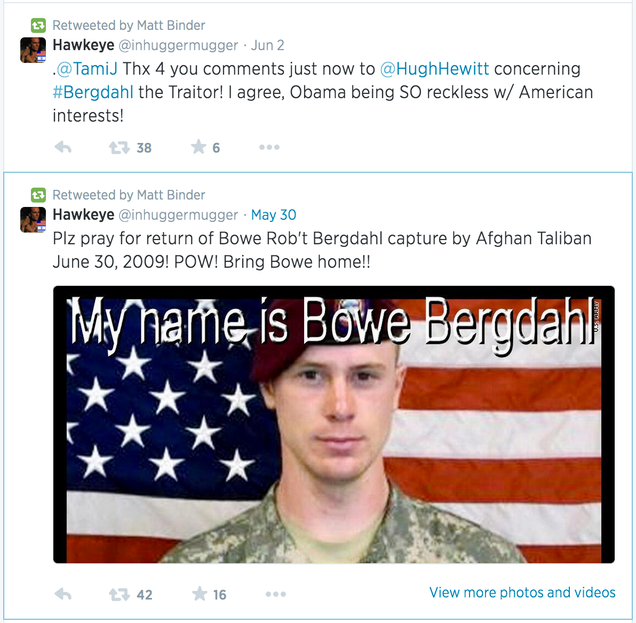 S
EXPAND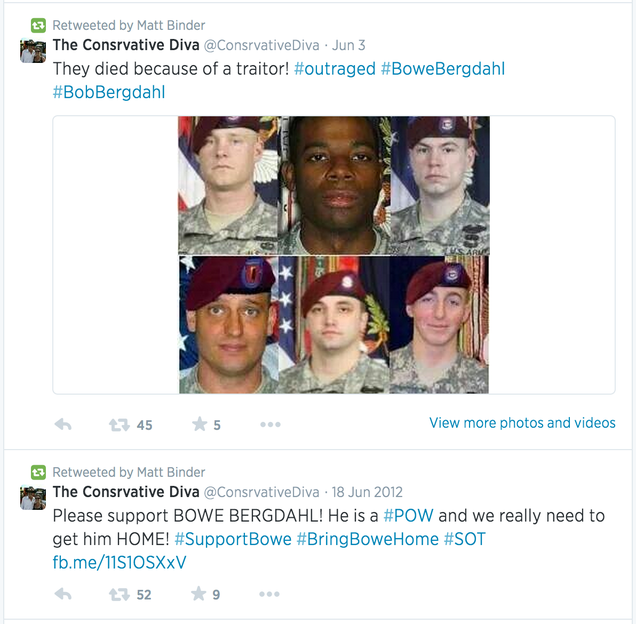 S
EXPAND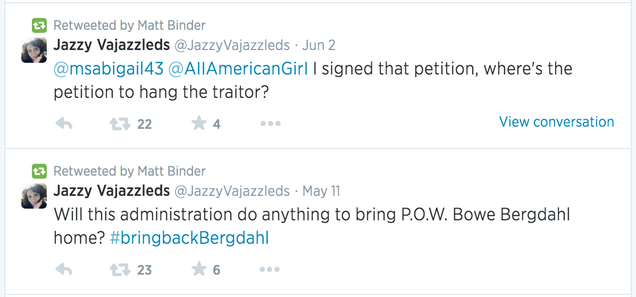 S
EXPAND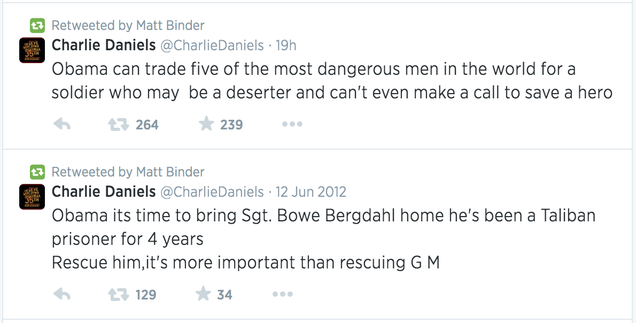 S
EXPAND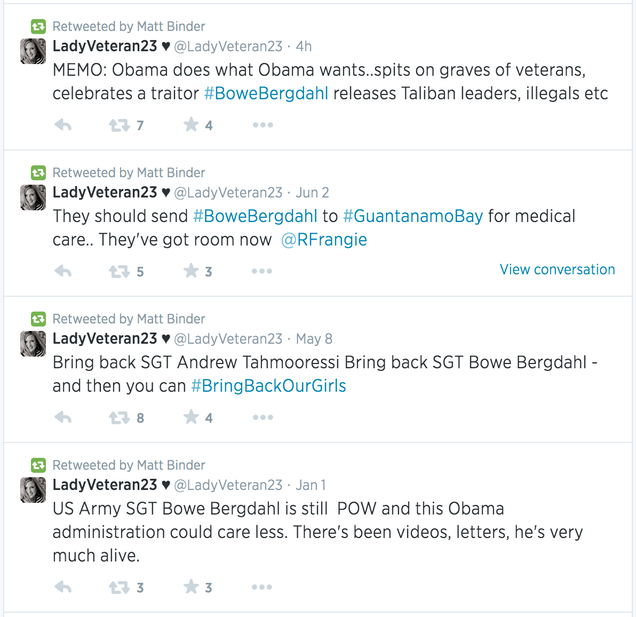 S
EXPAND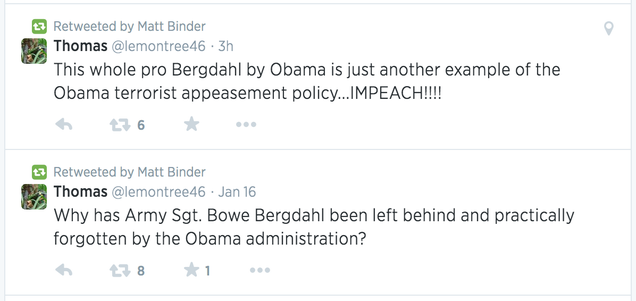 S
EXPAND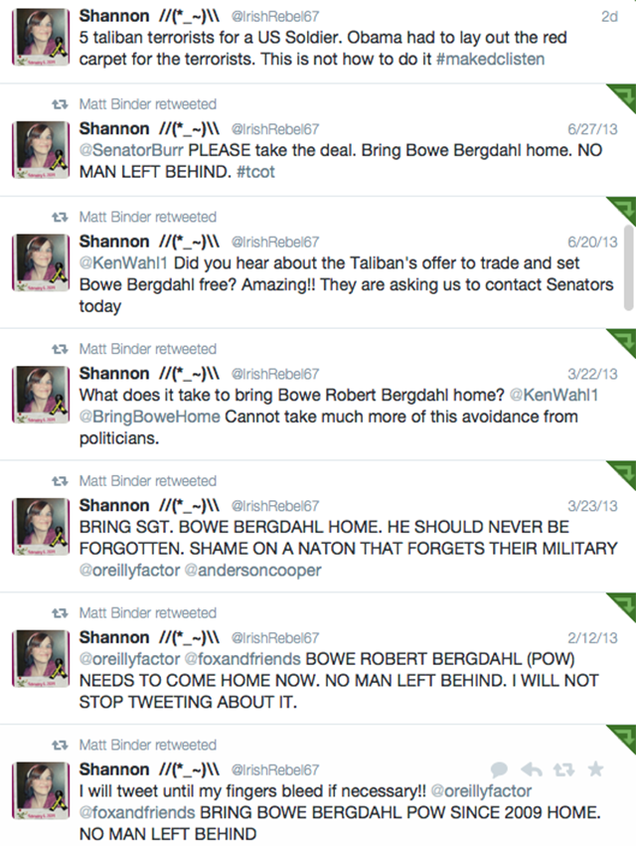 All credit for this trove of doublethinkin' cheerleading stupidity, this political horse-handicapping that has zilch to do with American values or POWs or fallen soldiers, is due to Binder, who
makes a sort of profession out of finding hypocrites like these
—hypocrites who would sooner score imaginary points in a Manichean
kulturkampf
against their perceived enemies than offer a coherent vision of governance and citizenship to their fellow Americans.
Oh, sure, some conservatives will bellyache that
now
they have information on Bergdahl's supposed betrayal they didn't have before, which is bullshit, since the trade's been publicly in the works for years, Mike Hastings wrote
a fairly straightforward story of Bergdahl's disappearance
in 2012, and there were grumblings long before his rescue.
And the truth is we
still
don't know the nature of Bergdahl's offense and captivity—whether he merely
intended to go UA or AWOL for a bit
(still criminal in the military), whether he was totally mentally with it, whether he was subjected to "harsh interrogation" (to use the right's parlance), whether he gave the Taliban any useful information, or whether
his health was so bad
that the chances of recovering him later were remote.
Mourning the men in uniform whose patterns of life were fatally disrupted by Bergdahl's disappearance is a fair and important thing. So is demanding he account for his actions. But stringing him up without an airing of all the facts; using some facts selectively to orchestrate a hacky political hit job on a hated politician; and straight up throwing one's own convictions down the social media memory hole to do it? That's truly unpardonable.