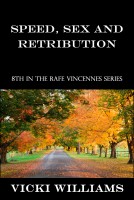 Oh, my goodness, I am glad to finally get this one published! I was in the middle of it during my Mom's last illness (Alzheimer's) and finally, her death. Taking care of my sweet, courageous little mother as she disappeared into dementia was a time when creativity was in rather short supply. I would plink around on the book for a while but my brain seemed to be working in a kind of creaking first gear. Mom called me constantly and then didn't remember what she wanted me for, so that even finishing a paragraph started to seem overwhelming. I'm not whining. I'd do it many times over for the woman who was my rock for the first 50 years of my life.
It's just that as the book dragged on, it started to feel that I'd been working on it forever. I was grateful it was a Rafe book because Rafe is my best writing companion. I know him so well, I didn't have to think about what he'd do in any situation, I just knew.
After Mom's died, it took me a while to get back in the groove. I made changes to the house to put my own stamp on it. I gave away over 1,000 dolls and 200 teapots and replaced them with a few pieces of art I loved. There were Mom's financial affairs to be taken care of. And grieving to be done.
After months, I was finally able to give
Speed, Sex and Retribution
my full attention again but I was eager to finish this book and to start over with something fresh and new. Bless Rafe's heart, he came through for me as he always does.
In this volume, Rafe still races in NASCAR but his father begins a new venture at the other end of the garage property with the building of the Vincennes Stud Farm, where he hopes the stallions, Swift Reckoning and Rolling Fog, father foals as successful in thoroughbred racing as Vincennes Team Racing has been in NASCAR.
Rhiannon is still making movies and the Vincennes kids are growing up. Rafe still follows his wayward ways and his siblings still call on him to be the family Enforcer, thanks to his lethal skill set.
Speed, Sex and Retribution
has been published now. It is available at
Amazon
and
Smashwords
.
My work in progress is about three boys who grew up in a family of Irish Travelers, a fascinating subset of American life.