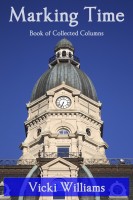 I have published a non-fiction book,
Marking Time - A Book of Collected Columns,
that readers of my fiction may not recognize as coming from the same author. My novels are graphic and gritty. My main characters are as much anti-hero as hero. My subjects are sometimes controversial.
By contrast,
Marking Time
contains 87 columns that run the gamut from humor to slice-of-life pieces to philosophical essays about larger issues. I write about people and pets, places and politics. I've worked as a bartender in a rock and roll bar, as a Mayor's secretary, a legal assistant, a machine operator in a factory and a transporter of prisoners, among other jobs, so my experiences encompass a cross-section of people - the movers and shakers; the cops, the courts and the criminals; the well-off and the down and out; the farmers tied to one piece of earth by love of the land and the musicians who live a gypsy life for love of music.
These columns are reflections about a rural Hoosier county in all its guises. Nature and human nature, the celebrations of our history, the bonds of family, the generosity and the meanness. Over the years, I have written honestly about my own struggles with life, warts and all.
Simply,
Marking Time
is about one person's effort to find beauty and love and laughter wherever it may be while acknowledging that there is darkness in the world as well.